Discover the power of Smart Messenger's UK-based email marketing at Norfolk B2B. Join us to unlock new business opportunities and make new connections.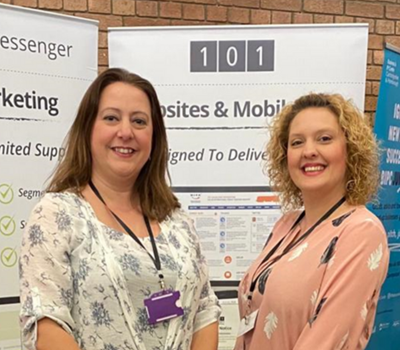 Norfolk B2B Exhibition is back, and Smart Messenger is excited to be part of this highly-anticipated annual event in the region's business calendar. Mark your calendar for 12 October and join us at the Royal Norfolk Showground in Norwich.
Norfolk B2B Venue & Date
Norfolk B2B 2023 Exhibition
The Royal Norfolk Showground, Norwich, NR5 0TT
Thursday 12th October 2023
10am - 4pm
The Exhibition is Norfolk's largest business-to-business event, bringing together a diverse range of exhibitors and visitors. As proud participants, we invite you to visit our stand and discover our Smart Messenger email marketing solution – ideal if you're looking for Mailchimp alternatives.
At Smart Messenger, we are dedicated to delivering exceptional service and expertise to our clients. Our friendly team will be on hand to provide support, advice, and insights for all your email marketing activities. As part of the 101 Websites, Apps & Email Marketing team, our experts will also be happy to help with your web and app development queries.
Book a Free 1:1 Mini Clinic
Take advantage of our free 1:1 mini clinics at the exhibition. Our team members will be available to discuss your digital marketing projects and offer tailored guidance. Reserve your meeting time by contacting us directly.
Be an Instant Winner
We believe in combining business with pleasure, and that's why we'll be running a light-hearted competition on our stand. Stop by for a chance to be an instant winner and enjoy some fun with the Smart Messenger team.
Celebrate with Us
This year's Norfolk B2B Exhibition holds extra significance as it marks the 25th anniversary of the event. In addition, we are celebrating the 20th anniversary of our Smart Messenger Email Marketing service. Join us in marking these milestones and learn how our services can drive your business forward.
See you there?
Norfolk B2B Exhibition is a great opportunity to access business opportunities, make new connections, and attend free business workshops led by expert speakers. Don't miss out – mark the date in your diary and join us at the Norfolk B2B Exhibition in Norwich. We can't wait to meet you there!
Can't make it to the Norwich event? Stay updated on our future exhibitions, including the CambsB2B exhibition at IWM Duxford in November, via our website and following us on social media.
If you require assistance with your email marketing projects, give us a call or get in touch via the form below for a no-obligation chat. We're here to help you succeed.
Ready to kickstart your marketing or inspired to explore what else you could achieve?
Our expert team are ready to help you achieve your goals – and get great results. Ask a question, book a demo or get an expert perspective today.
Thank You!
We're sending your message.
Thank you!
Your message has been sent.
Sorry!
There's been a problem, please try again later.