Folders have been added to campaigns, contacts and templates. Perfect for organising your data and your campaigns.
Time to Organise
Folders have been added within most areas of Smart Messenger. So you can now organise your data and your campaigns with ease!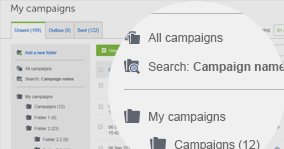 Folders can be created, nested, renamed or deleted, and address books, campaigns, templates, segments and programs can be moved into target folders by selecting the Move address books option from the More options dropdown.
This gives you the ability to organise your account according to your business model.
Please note that this feature is immediately available to all customers but it is in beta at the moment. This means that the overall functionality isn't complete yet and will be subject to further changes and enhancements before we fully release it.
Feel free to use the functionality now and let us know how you get on.
Ready to kickstart your marketing or inspired to explore what else you could achieve?
Our expert team are ready to help you achieve your goals – and get great results. Ask a question, book a demo or get an expert perspective today.
Thank You!
We're sending your message.
Thank you!
Your message has been sent.
Sorry!
There's been a problem, please try again later.