Christmas is a great time to connect with customers and remind them why they began shopping with you to start with.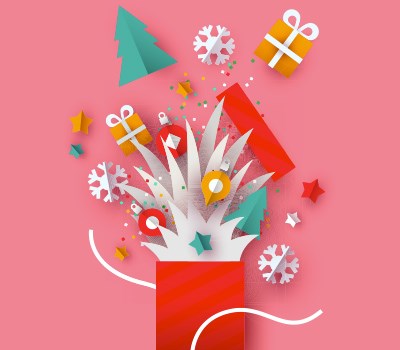 There are so many different ways you can use Smart Messenger's free and bespoke email templates to spread a little joy this Christmas, whether it's through sharing new ideas on how to bring loved ones together or by helping customers plan ahead. We've outlined our favourites below. 
Opening times
Christmas trading wouldn't be complete without a change to opening times. Make sure your customers know when they can shop with you by putting your opening hours front and centre early on, and reminding them regularly. With public holidays and extended opening, it can be confusing for customers to know when they can pop in over the holidays. Even if you don't have a physical shop, it's likely that customer service availability for your online shop will be different to usual over the Christmas period. There is also often confusion about when businesses open again in those lazy days between Christmas and New Year. By including opening times in your Christmas emails you give customers all the information they need in one place and avoid all confusion. 
Help customers plan ahead
People are thinking about Christmas earlier and earlier and this year is no different, plan ahead too and showcase Christmas special offers early. We know you've probably been planning your Christmas offers since the summer, so why not get ahead of your competition and start letting customers know about them now? Our free Christmas email templates are the perfect way to show off your special offers in a beautiful and eye-catching format. If you need something a little different, our bespoke Christmas email templates are built by your account manager to your specifications and are the perfect way to highlight special offers. You'll have the perfect template and customers will know exactly who they're coming to for their Christmas goodies. Christmas is likely going to be a very different affair this year, so by helping customers plan ahead you ensure it's still a special day. 
Recap your year
2020 has been one of the most "interesting" years most of us will have ever experienced and how businesses have looked after their staff this year is something customers want to know. Christmas emails are the perfect opportunity to share your story and thank customers for their support. Highlight wins, explain how you overcame adversity, describe any adaptations you've had to make to continue trading, and remind people why they should continue shopping with you. Humanise your brand by sharing personal stories to encourage customers to form an emotional bond with your business, it's one of the best ways to create brand loyalty and ensure that they keep coming back. Hearing about how their favourite brands are doing is something people are genuinely interested in - especially in 2020. 
Highlight how we can come together
None of us really know what the festive period is going to look like this year, Christmas emails are the perfect way to start sharing inventive ways for everyone to come together. If you run a homeware and lifestyle business you could encourage customers to think about making their own homes more cosy and festive, if you're a food business why not share zoom-friendly recipes the whole family can make together? By sharing new ideas on how to bring everyone together, no matter where they are, you show customers you care about them and understand the importance of sharing the festive period. 
Smart Messenger offers a range of free email templates, as well as bespoke Christmas email templates, to help you spread a little festive cheer. For more information and to claim your free Christmas Email Template, get in touch.
Ready to kickstart your marketing or inspired to explore what else you could achieve?
Our expert team are ready to help you achieve your goals – and get great results. Ask a question, book a demo or get an expert perspective today.
Thank You!
We're sending your message.
Thank you!
Your message has been sent.
Sorry!
There's been a problem, please try again later.