Christmas is a great time to connect with your customers and contacts to show your appreciation, let them know about opening times and send festive wishes.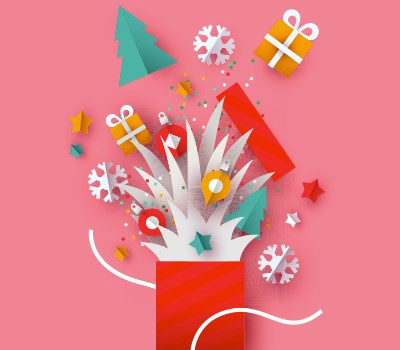 It's the most wonderful time of the year, so why not use Smart Messenger's free Christmas templates to share some festive cheer with your customers? We have 9 for you to choose from this year!


 Free Christmas Email Templates

A Christmas email campaign is a great way to reconnect with your contacts, whether they are customers, prospects or other associates. As well as being a quick, cost-effective and environmentally-friendly way to send festive greetings, seasonal emails can provide useful information too.
To help you, we have created nine free Christmas email templates for Smart Messenger clients. We also offer a fully bespoke email template design service and we can even manage the sending and reporting for you.


Bespoke Christmas Email Templates
What can I write about in my Christmas email?
Here are our favourite ideas for using Smart Messenger this Christmas:
Opening times
Christmas trading wouldn't be complete without a change to opening times. Make sure your customers know when you'll be open over the festive season by dropping them an email with details of any extended hours, shorter days and closure dates. With public holidays and changes to opening hours during this period, it can be confusing for customers to know when they can pop in or get in touch over the holidays. Whatever your type of business - from auction house to insurance broker, or high street store to online retailer, it's likely that your opening times or customer service availability will be different to usual over the Christmas period.
There is also often confusion about when businesses are open in those lazy days between Christmas and New Year. By including opening times in your Christmas emails you can give customers all the information they need in one place for the best customer experience.
Help customers plan ahead
These days, many people are thinking about Christmas earlier and earlier. With this in mind, businesses need to plan ahead too, and showcase Christmas special offers early. We know you've probably been planning your Christmas offers since the summer, so get ahead of your competition and start letting customers know about them sooner rather than later. 
Our free Christmas email templates are the perfect way to show off your special offers in a professional and eye-catching format. If you need something a little different, our bespoke Christmas email templates are created to your specifications by your Smart Messenger account manager in conjunction with our design team and they are the perfect way to highlight special offers. A bespoke Christmas email campaign could provide the perfect way to engage your contacts so they take you up on your festive offer - whether it's an exciting deal, an exclusive preview invitation, a special Christmas event or some other enticing opportunity.
Say thank you
Christmas emails are an ideal way to say thank you to your customers for their support over the past year. Making contact at key moments during the year promotes a greater sense of togetherness and shows your customers they are important to you, while also helping to keep your business front-of-mind.
Smart Messenger offers a range of free email templates, as well as bespoke Christmas email templates, to help you get the most from your seasonal campaigns. For more information and to claim your free Christmas Email Template, get in touch.
Ready to kickstart your marketing or inspired to explore what else you could achieve?
Our expert team are ready to help you achieve your goals – and get great results. Ask a question, book a demo or get an expert perspective today.
Thank You!
We're sending your message.
Thank you!
Your message has been sent.
Sorry!
There's been a problem, please try again later.