Discover how to drive email engagement and conversions with effective CTAs. Learn what is a call to action and how to use them effectively for great results.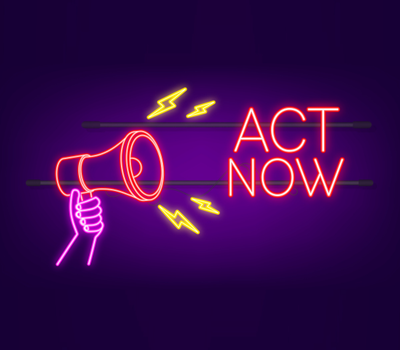 Email marketing is a powerful tool for reaching your audience, but if your emails don't contain effective calls to action (CTAs), you could be missing out on potential sales and engagement. In this article, we'll explain what we mean by a 'call to action' and what makes a good call to action. We'll also highlight the need to be mindful of CTA language and spam filters to help ensure that your carefully-crafted messages reach your audience.
What is a Call to Action (CTA)?
A Call to Action (CTA) is a strategic element within your email marketing campaign that prompts recipients to take a specific action, such as making a purchase, subscribing, or engaging with your content. It serves as a compelling invitation that guides your audience towards a desired outcome, encouraging them to respond proactively to your message.
Neglecting to include a CTA can lead to missed opportunities for engagement, as recipients may not know what action to take next. In contrast, a well-crafted CTA not only captures attention but also inspires immediate engagement, making it an essential tool for driving conversions and achieving your marketing goals.
Here's an example:
So, What Makes a Good Call to Action?
An effective CTA is like a guiding light directing your email recipients towards a desired destination. Whether it's inspiring a purchase, encouraging engagement or driving conversions, a well-executed CTA has the potential to boost your email campaign's results. Here are some points to bear in mind when creating CTAs for your campaigns:
1. Be Clear and Direct
The foundation of a successful CTA lies in its clarity. Ambiguity leads to confusion, and in a crowded inbox, you have mere seconds to capture your recipient's attention. When it comes to the length of your CTAs, it's essential to strike a balance between being concise and informative. Aim for around 2-5 words for a quick, impactful message that instantly conveys the action you want recipients to take. Employ action-orientated language that leaves no room for uncertainty. Avoid vague or bland phrases like "Learn more" or "click here". Instead, opt for direct and specific wording that clearly communicates the action you want them to take, such as "Download the eBook" or "Get started today."
Here are some ideas for general CTAs that could apply across different organisations:
Take A Free Trial
Get Tickets
Watch Now
Reserve Your Place
Legal firms might use specific CTAs like:
View Case Wins
Brush Up On Data Protection Law
Financial services companies may want to demonstrate their expertise by encouraging clients to:
See New Tax Rates
Book A Financial Review
For a recruitment consultancy, CTAs like "Apply For Telesales Position" or "Test Your Skills" could be popular options. Holiday company may entice recipients to "Browse Country Cottages" or "Download Our Travel Guide", while an artisan food or drink producer might invite customers to "Sample Our New Flavours".
2. Be Reassuring
Don't overlook the importance of reassuring your audience that it's risk-free to find out more. Carefully worded CTAs can help build trust and encourage action. For example:
Free Tax Strategy Guide
Chat With Our Experts
Membership Benefits Video
Book Complimentary Treatment
30 Day Free Trial
View Our Case Studies
Download Free Handbook
5 Star Reviews
3. Create Urgency, But Be Spam-Savvy
We all feel a sense of urgency when we know something is only available for a short time. That's why using simple phrases like "Act now" can make people want to take action right away. You'll want to encourage your recipients to respond to your CTAs as soon as they get your email. Otherwise, they might forget about you or be enticed by a better CTA in a competitor's email!
Just remember, using too many exclamation marks or capital letters in your CTAs might make your email look like spam. It's best to create a genuine desire to act now that feels important and not go overboard. The more specific you can make them to your business, the better. Here are some ideas:
Beat The Rush
Limited Easter Availability
Free Drink, This Weekend Only
Last Few Seats
Making Tax Digital: Deadline Approaching
Join Now For Spring Savings
Start Free Trial Now 
A Note of Caution Regarding Spam Filters: While creating a sense of urgency can be effective, it's important to find the right balance to avoid potential issues with spam filters. Just as crafting engaging CTAs is crucial, ensuring your emails steer clear of spam filters is equally vital. Even the most carefully written email will have no impact if it doesn't land in the recipient's inbox. Here's how you can minimise the risk of your CTAs triggering spam detectors:
Avoid Overusing Urgent Language: Excessive use of urgent phrases, too many exclamation marks, or overuse of capital letters may set off alarm bells in spam detection systems.
Steer Clear of Spammy CTAs: Phrases like "NEVER to be repeated," "Act FAST, the clock is ticking" or "Grab it before it's gone!!!" can come across as spammy and should be avoided.
Strive for Genuine Urgency: Instead of relying on sensational language, aim to combine an authentic, compelling offer with a valuable incentive to act now.  
Remember, a well-structured CTA holds the power to engage your audience, but taking steps to prevent your emails from being flagged as spam ensures that your message reaches its intended recipients' inboxes effectively.
4. Provide Incentives
Incentives serve as magnets, pulling recipients towards your desired action. If you offer things like exclusive discounts, free trials or helpful resources, people will be more likely to pay attention and take action. Ensure your CTA clearly highlights the benefits of why they should respond to it. Here are some examples:
20% Off Next Purchase
Free Advice Webinar
Join Us For Lunch At the Norfolk Show
Learn From Industry Experts
Get Your Free Sample
Networking Event & Goody Bag
Join For Member Benefits
Early Bird Access
Book A Personalised Consultation
5. Make it Easy
It should be really easy for your email recipients to see and act on your CTAs. Email marketing systems feature user-friendly email builders and tools to create well-placed and eye-catching CTAs. Use contrasting colours for buttons or text links, strategic placement and a clear design to ensure your CTA stands out and compels action.
Try to make the steps they need to take as few as possible so it's easy to reach the desired destination. This will reduce drop-offs and barriers to conversion.
Pro tip: If you can, put your most important CTA near the top of the email. That way, even if recipients only see the start of your email (perhaps only in their inbox preview pane), your CTA will still be visible and clickable.  
6. Analyse to Improve!
Your journey towards mastering CTAs doesn't end with their creation. Once your campaign has been sent, the powerful analytics tools contained in professional email marketing platforms like Smart Messenger will show you what's working – and what's not so effective. By examining click-through rates, conversion metrics, and user engagement data, you can identify the CTAs that have the most impact. These insights will give you a deeper understanding of your audience's preferences.
Armed with this knowledge, you can refine your approach and fine-tune your messaging to shape the success of future campaigns. So, once you've hit that "send" button, don't forget to analyse your campaign results in a day or two. Apply what you learn to your next campaign to boost engagement and achieve greater success.
Final Thoughts
A well-crafted CTA is a clear signpost, guiding your email recipients to take action. Above all, be clear about what you're offering and tell your contacts what to do next. You might already be doing some of these things without realising it, but always remember these key points:
Explain your offer clearly.
Make it safe and easy for them to take action.
Give them a reason to act right away.
At Smart Messenger, we combine the advanced features you expect from a professional email marketing platform with a level of personalised support that other providers struggle to rival. (Check out our blog to discover more reasons why we're the perfect alternative to Mailchimp.)
Our plans start at just £10 per month and include 1:1 training, unlimited phone support and a dedicated account manager who can provide guidance on any aspect of your email marketing. Together, we can help you unlock the power of email marketing to make lasting connections, engage your audience and achieve your business goals.
Why not get in touch with our friendly experts to discuss your needs and arrange a Smart Messenger demonstration? Simply call us on 01603 858250, or complete the form below and we'll come back to you shortly.
Ready to kickstart your marketing or inspired to explore what else you could achieve?
Our expert team are ready to help you achieve your goals – and get great results. Ask a question, book a demo or get an expert perspective today.
Thank You!
We're sending your message.
Thank you!
Your message has been sent.
Sorry!
There's been a problem, please try again later.