Exceptional UK-based customer support and personalised service set Smart Messenger apart in the world of email marketing. From tailored advice to training, we're committed to helping our clients succeed.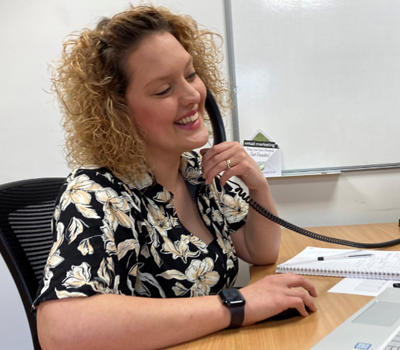 The 'Just Call Us' Difference
When it comes to email campaigns, exceptional customer support from your email marketing provider can be the key to success. At Smart Messenger, we believe in the importance of going the extra mile for clients. We differentiate ourselves by offering a unique 'Just Call Us' support service. This personal level of support sets us apart from other email marketing platforms whose customers have to rely on impersonal chatbots and forums for answers. It also makes us a great choice if you're looking for mailchimp alternatives.
Say goodbye to frustrating automated responses or long wait times. When you choose Smart Messenger, you get access to our friendly and dedicated UK-based support team - real people at the end of the phone line! Whether you prefer to give us a call or send an email, we're here to assist you when you need us. We understand that marketing can be challenging, and we want to make it easier for you. That's why our unlimited support and expert advice are always available to you, and the best part? It's absolutely free of charge to clients, regardless of which Smart Messenger email marketing plan you choose.
Dedicated UK-Based Support
From the moment you sign up with Smart Messenger, you'll be assigned a dedicated account manager at our Norwich HQ. This member of the team will be your trusted ally throughout your email marketing journey. Our account managers take the time to truly understand your business and goals so that they can provide you with personalised advice that helps your campaigns shine. Plus, we provide comprehensive training to ensure you're set up for success. 
Smart Messenger is part of the 101 digital marketing agency, so if you need support with any other aspect of your online marketing - such as data protection, website design or app development - our expert team is always happy to provide advice.
To further assist you, we've built a library of useful articles and blog posts that cover various aspects of email marketing. Whether you're looking for guidance on GDPR compliance or seeking the secrets of successful campaigns, we've got you covered. We also value your input, so if there are specific questions or topics you'd like us to address, just let us know, and we'll do our best to provide the information you need.
Email Marketing Courses
At Smart Messenger, we're genuinely passionate about helping our clients achieve their marketing goals. That's why we offer email marketing courses across East Anglia, led by our team of expert trainers, including Holly Stibbon. These comprehensive courses are packed full of value, and designed to provide you with the knowledge and tools you need to plan and execute successful campaigns that align with your organisation's goals. Our interactive and practical sessions offer valuable tips, personalised feedback on your previous campaigns, and expert support to help you overcome any challenges you've encountered in the past. 
The Smart Messenger Difference
Our exceptional level of support, combined with the professional, easy-to-use Smart Messenger email marketing platform, sets us apart from other email marketing companies. We're here to assist you every step of the way, whether you're just starting out with email marketing or ready to take your campaigns to the next level. Why not get in touch with our friendly team to discuss your requirements, and let us help you achieve campaign success?
Ready to kickstart your marketing or inspired to explore what else you could achieve?
Our expert team are ready to help you achieve your goals – and get great results. Ask a question, book a demo or get an expert perspective today.
Thank You!
We're sending your message.
Thank you!
Your message has been sent.
Sorry!
There's been a problem, please try again later.