Charities that sign up for Smart Messenger this December will receive an automatic upgrade to our Pro Account at no extra cost, saving £439 across the year.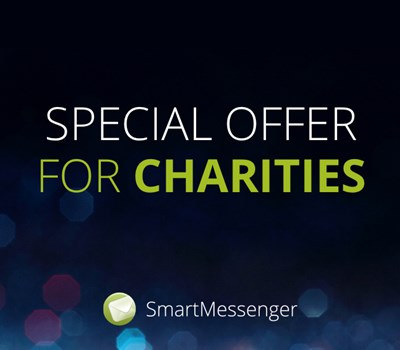 We're giving charities a helping hand this month with an exceptional offer that lasts a whole year!
For charities that sign up for the Smart Messenger email marketing platform in December, we'll automatically upgrade their subscription to a Smart Messenger Pro account for the price of a Lite account, for a whole 12 months.
Smart Messenger Pro is an easy-to-use, professional email marketing platform that includes free templates, drag-and-drop email editors, email automation, plus powerful forms and landing page builders. 
Even better, it's a UK-based service with full training and ongoing support provided by our expert account managers. With our help, you'll be able to get your email campaigns, feedback forms and standalone web pages up and running smoothly in no time.
We really enjoy working with charities and that's why we've put together this special offer that gives new charity customers a whole year's subscription to Smart Messenger Pro, for the price of a Lite account - starting at just £10 per month. That's an immediate saving of £20 per month and we'll also waive our usual set-up fee, meaning a total saving of £439 across the year!
Interested?
Please get in touch as soon as possible to discuss your needs or to book a no-obligation 20-minute demo with our friendly team. This special offer is only available to registered charities that sign up for a Smart Messenger subscription this December.
Call us on 01603 858250, or contact us - we'd love to help your charity get the best from its email marketing.
Ready to kickstart your marketing or inspired to explore what else you could achieve?
Our expert team are ready to help you achieve your goals – and get great results. Ask a question, book a demo or get an expert perspective today.
Thank You!
We're sending your message.
Thank you!
Your message has been sent.
Sorry!
There's been a problem, please try again later.