Use this handy email marketing checklist before sending your campaigns. By following this, you can optimise your emails and increase their effectiveness while avoiding common mistakes.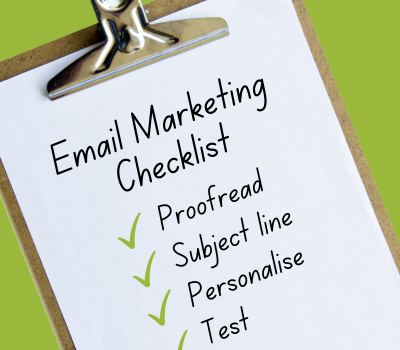 Do you ever experience a moment of apprehension just before hitting the Send button on your email campaign? It's the critical point when your carefully crafted message is about to reach potentially hundreds or even thousands of recipients. Naturally, you want to ensure it looks polished, reads well, and is completely error-free. To support you to send your emails with confidence, we've compiled a comprehensive checklist to follow before sending out your campaigns. 
Email Marketing Checklist: Send Your Campaigns With Confidence
Proofread and edit - Double-check your email content for grammar, spelling errors and formatting issues to ensure your message is clear and error-free. For a fresh pair of eyes on your campaign, send a test email to a colleague and ask them to look it over before you send the whole campaign. For extra peace of mind, at Smart Messenger our dedicated account managers are always happy to carry out a quick sanity check on clients' emails.

Include a clear, concise subject line and preheader - Create a compelling subject line that accurately represents your email's content and encourages recipients to open it. Always include a preheader that complements the subject line and provides additional context or value to entice recipients to open the email. For more best practice advice, check out our Preheader tips. 

Use personalisation and segmentation - Whenever possible, send your emails from a named person in your organisation for a more personal touch. And use personalisation tags to address recipients by their names or include other relevant details, such as their company name or location. Segment your email list based on specific criteria for targeted messaging, for example their city, industry sector or special interest.

Include Calls-to-action (CTA) - Include clear and prominent CTAs within your email, making it easy for recipients to take the desired action. Ensure your CTA stands out visually and has a persuasive (but non-spammy) message.

Make sure your content is relevant and engaging - Provide valuable and relevant content that aligns with your audience's interests and needs. Use engaging visuals, videos, or interactive elements where appropriate. Tip: Double check you haven't used spammy phrases like 'act now', 'hurry', 'time limited offer', which are likely to be spotted by spam filters and may result in your email landing in the recipient's junk folder. Get more advice on avoiding spam filters.

Check links and tracking - Verify that all the hyperlinks in your email are in the right places and that they work correctly, leading to the intended landing pages or resources. Set up tracking for links and campaign performance measurement. Tip: Always check all the links in your emails when you do your test sends before launching the campaign. You'll be surprised what you pick up at this stage!

Is your styling and design consistent? - Ensure your email template reflects your brand's visual identity, including logo placement, colours, and fonts. Maintain consistency across all elements. Tip: Professional email marketing platforms like Smart Messenger include easy-to-use drag and drop template editors so you can add the elements you require and customise templates with your corporate styling. We also offer a template design service if required.

Remove unwanted branding -  Make sure your email carries your own branding and not that of your email service provider! Tip: Use an email service provider that allows you to remove their branding from your templates and use your own domain for sending emails. This reinforces your brand identity and professionalism. Smart Messenger's logo never appears on clients' emails and templates are fully customisable to reflect your branding. This makes us an ideal choice for those looking for Mailchimp alternatives.

Include alt tags on images - Use alt tags for all images in your email. These tags provide alternative text descriptions that appear if the images don't load properly. Tip: Alt tags help convey the meaning and purpose of the images, ensuring recipients understand the intended message even without the visual element.

Test and preview your campaign - Last, but not least, before sending your campaign, send test emails to different accounts to review how they look across a variety of platforms from Outlook to Gmail, on desktop and mobile devices. Also use this opportunity to check links, and ensure everything functions as intended. Tip: Professional email marketing platforms like Smart Messenger enable you to send test messages to multiple contacts and will automatically optimise your design for mobiles. 
Supercharge Your Email Marketing With Smart Messenger
At Smart Messenger, we understand the importance of getting things just right when it comes to our clients' email marketing campaigns. We offer exceptional personalised customer service that we believe is unrivalled in our sector. Our Just Call Us support ethos means our clients can ring us any time they need help with their campaigns and our friendly, dedicated account managers will be ready to help. There's no automated response or call queuing system - you'll get straight through to real help from real people.
The Smart Messenger platform offers a range of features and support to help you maximise your email marketing success. From easy-to-use drag and drop template editors, forms and landing page builders to advanced automation and detailed analytics, we have the tools you need to engage your audience and achieve your goals. We also design bespoke email templates and offer a fully-managed send service for clients who need extra support.
Don't let your email campaigns fall short.  Get in touch to take advantage of our expertise and fully-featured technology to supercharge your email marketing efforts!
Ready to kickstart your marketing or inspired to explore what else you could achieve?
Our expert team are ready to help you achieve your goals – and get great results. Ask a question, book a demo or get an expert perspective today.
Thank You!
We're sending your message.
Thank you!
Your message has been sent.
Sorry!
There's been a problem, please try again later.