Unwrap the secrets of effective Christmas email marketing including design, timing, content and why it matters in boosting sales and connections.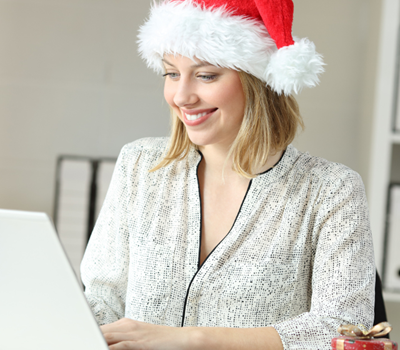 Ah, the holiday season—a time of joy, festivities, and…strategic marketing opportunities! As marketers, you know the value of harnessing the holiday spirit to connect with your audience. And what better way to do so than through the magic of a Christmas email marketing campaign?
The Power of a Well-Crafted Christmas Email
A well-designed Christmas email can serve as a powerful tool to engage your audience, foster brand loyalty, and drive conversions. But crafting an effective campaign requires more than just a Santa hat emoji and a "Season's Greetings" message.
Here's our guide to help you unwrap the secrets of successful Christmas email marketing:
1. Designs that Dazzle
Your email's visual appeal matters. A festive template design can capture attention and evoke the holiday spirit. Think vibrant colours, seasonal imagery, and a touch of creativity. Consider infusing contemporary elements or a playful tone to engage your audience in a fresh and captivating way. Partnering with experts like Smart Messenger to commission a bespoke Christmas template for your emails can help bring your innovative design ideas to life, ensuring your email stands out amid the holiday inbox clutter.
2. Timing Is Everything
Sending your emails at the right time is crucial. Aim to strike the balance between being early enough to stand out and not overwhelming your audience. Depending on your audience and the objectives of your email, November to mid December tend to be prime time for Christmas email campaigns, allowing for multiple touchpoints before the holiday rush.
3. Compelling Content
Beyond the aesthetics, the content of your email holds the key to engagement. Here's what you might consider including:
Personalisation: Address recipients by name and tailor content based on their preferences or previous interactions.


Exclusive Offers: Holiday-themed discounts, promotions, or limited-time deals can drive conversions.


Engaging Stories: Share heartwarming stories or behind-the-scenes glimpses related to the season or your brand's journey throughout the year.


Gift Guides: Help your audience with gift ideas, showcasing your products or services as ideal presents.


Helpful Information: Provide practical details such as advice on last order dates or office closure periods over the holiday period.


Seasonal Wishes: This is the obvious approach, but always welcome, particularly if you wrap up your greeting in a fun and festive design! Why not simply take the opportunity to thank your clients for their support over the year and wish them a relaxing festive break?


Calls-to-Action (CTA): Ensure your email has clear, enticing CTAs that direct recipients to your desired action, whether it's making a purchase, visiting your website, or signing up for a newsletter.
Why Christmas Emails Matter
Christmas emails are important for both B2C and B2B businesses. For consumers, the holiday season is a time when individuals actively seek gifts, offers and experiences. Sending personalised greetings, exclusive deals, or engaging content through emails can significantly boost sales, enhance brand loyalty, and create memorable experiences for customers.
In the professional world, B2B firms can channel the holiday spirit to strengthen relationships, express gratitude and foster connections with clients, partners and associates. Personalised messages or special deals can deepen ties, maintaining visibility and laying the groundwork for future collaborations in the coming year.
The festive season offers endless creative opportunities to marketers and business owners. Crafting an effective Christmas email marketing campaign involves a careful blend of creative design, strategic timing, compelling content and a sprinkle of holiday magic! And when in doubt, seeking support from experts like those at Smart Messenger can take your campaigns to new heights.
Crafting Your Perfect Christmas Email with Smart Messenger
When it comes to crafting standout Christmas email campaigns, Smart Messenger offers tailored solutions that fit your brand seamlessly. We can even manage the entire Christmas email campaign for you – from creating a bespoke design, to uploading your contacts, sending the emails and reporting back to you on campaign results.
Bespoke Christmas Email Templates
We love the festive season and our team works hard every year to create stunning, bespoke Christmas email templates that align perfectly with our clients' branding. Whether you need custom images or designs that sparkle with holiday cheer,' our designers are here to bring your ideas to life with eye-catching templates that can be either static or animated.
Affordable Creativity
Tight budget? Our bespoke templates are affordably priced, from just £149+vat. Contact our team of dedicated 'elves' and we'll get started on an extra special, tailor-made template that captures the festive spirit, without breaking the bank.
Why Smart Messenger?
As a UK-based email marketing service, we take pride in offering:
Unlimited phone support: Our Norwich-based team provides exceptional service across all plans, including unlimited phone support and a dedicated account manager, ensuring you are fully supported every step of the way.


Free training: We provide free 1:1 training to help you get your email campaigns off to a flying start.


Powerful, easy-to-use platform: Our platform simplifies the process of creating, managing and analysing your campaigns, taking the hassle out of email marketing.  


Cost-effective solution: With a choice of plans starting at just £10pm, our system is idea

l for both low and high volume senders.
Smart Messenger is more than just a service, we're your partner in creating impactful and memorable email campaigns at Christmas and all year round.
Wrapping It Up
As you deck the halls and plan your festive marketing activities, remember that a well-executed Christmas email campaign isn't just about sales, it's about spreading cheer, fostering connections, and creating memorable experiences for your audience.
So, gather your digital holly, dust off your Santa hat and let your Christmas emails light the way towards a season filled with joy, togetherness and a little sprinkling of commercial delight!
Need Help?
Discover the joy of hassle-free festive marketing! Let Smart Messenger craft your bespoke Christmas emails and, if needed, manage your entire campaign from start to finish. Contact us today and let's get started.
Ready to kickstart your marketing or inspired to explore what else you could achieve?
Our expert team are ready to help you achieve your goals – and get great results. Ask a question, book a demo or get an expert perspective today.
Thank You!
We're sending your message.
Thank you!
Your message has been sent.
Sorry!
There's been a problem, please try again later.