To celebrate 20 years of Smart Messenger we're offering a special discount on Smart Messenger Pro, our gold-standard email marketing plan. Don't miss out - this offer expires on 28 Feb '23!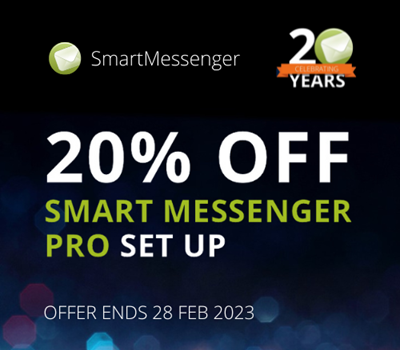 Smart Messenger turns 20 this year. To celebrate two decades of helping hundreds of clients to create and deliver thousands of successful email marketing campaigns, we're pleased to announce the first in a series of Smart Messenger special offers that will run throughout 2023. 
Smart Messenger Pro Offer Details
Subscribe to Smart Messenger Pro by the end of February 2023 and receive 20% off our usual set-up fee! 
​Smart Messenger Pro is our top-tier email marketing plan. It's designed for serious marketers who require powerful email marketing features that will help them take their campaigns and reporting to the next level.
Smart Messenger Pro comes with 3,000 credits per month as standard, with the ability to scale up to send hundreds of thousands of emails per month if required.

Compare Price Plans
Why Smart Messenger Pro?
Smart Messenger Pro offers all the advanced email marketing functionality that marketing professionals need. In addition to the features of our Lite and Standard plans, the Pro package includes:
Advanced email automation tools - allowing you to set up email workflows that are responsive to your contacts' interactions with your campaigns, increasing relevance and engagement.
Customisable free landing page templates - so you can create engaging, professional-looking standalone web pages that are ideal for lead gen activities, competitions, newsletter sign-ups, white paper downloads etc.
Customisable free forms templates - tailor them to your needs and add them to your website to facilitate sign-ups, brochure requests, surveys etc. These forms integrate with your Smart Messenger email marketing database for joined-up, more effective campaigns. They're easy to add to your site - and we can show you how.
Drag and drop landing page and forms builders - enabling you to build your own fully bespoke pages and forms without the need for a developer. 

Landing Page & Forms Video
UK-Based
Smart Messenger is fully UK-based. Our team of email marketing experts is based in Norwich, Norfolk. We're stringent about data protection and we guarantee your data is always safe with us.
Unlimited Support
All Smart Messenger clients receive full training when they sign up and we provide unlimited phone support at no extra cost. Our friendly team is always happy to help, which means you'll never need to struggle to get an email campaign up and running again.
How To Claim Your Discount
To take advantage of the set-up discount you'll need to subscribe for Smart Messenger Pro before the end of February 2023 and quote 20PRO when you sign up.
Interested to know more? Get in touch for a no-obligation demo and to discuss your email marketing requirements with one of our friendly team members. 


Ready to kickstart your marketing or inspired to explore what else you could achieve?
Our expert team are ready to help you achieve your goals – and get great results. Ask a question, book a demo or get an expert perspective today.
Thank You!
We're sending your message.
Thank you!
Your message has been sent.
Sorry!
There's been a problem, please try again later.