Responsive emails display differently on desktop and mobile devices meaning that your recipients will be able to read your message easily regardless of the device they are using to read it.
Make sure your recipients can see your email
With more and more people opening emails on their mobiles it is vital that yours display properly, are readable and achieve your objectives.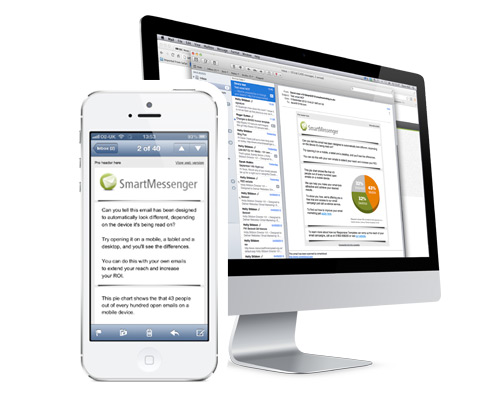 To help you Smart Messenger now has a range of responsive email templates for customers to use free with their email campaigns. In addition to our range of free templates we offer a bespoke template design service for just £99 per template.
Our team of experts are on hand to offer free advice on all aspects of email marketing, just give us a call on 01603 858250.
If you would like to view our range of templates and try Smart Messenger for yourself just ask for a free trial.
Ready to kickstart your marketing or inspired to explore what else you could achieve?
Our expert team are ready to help you achieve your goals – and get great results. Ask a question, book a demo or get an expert perspective today.
Thank You!
We're sending your message.
Thank you!
Your message has been sent.
Sorry!
There's been a problem, please try again later.