Get the upper hand on email marketing with these eight simple tips to help make your campaigns more accessible on mobile devices and ensure your mobile contacts are not being left out.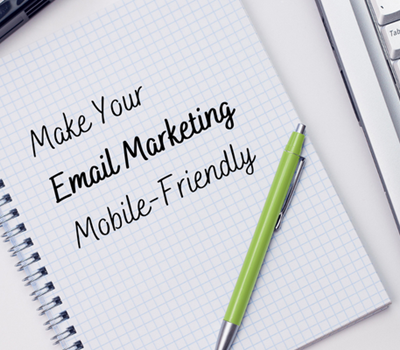 Why is mobile optimisation for email marketing so important?
Email marketing has changed considerably over the years and more email campaigns are being opened on mobiles than ever before. For each campaign, the percentage of emails opened on mobile devices will vary according to your audience's location, age, industry etc but, in general, analytics show at least half of emails are opened on mobiles. On top of this, many people check their emails on their phones first, before taking a more in-depth look later on their desktops.
Despite these developments in the way people access their emails, many businesses overlook the importance of creating mobile-friendly campaigns. In response, we have created a checklist highlighting a few simple ways in which you can make your emails more accessible for mobile users to help boost the overall success of your campaigns.
1. Make your 'calls to action' the focal point of your email
Lead your readers to your call to action (CTA) and consider how you can make it stand out from its surrounding content.  Don't underestimate the power of colour; a contrasting accent colour can catch even distracted eyes. And, keep in mind that a cursor is a lot more precise than a thumb, so make your button noticeable and easily clickable for your mobile users.
In short, think louder, larger, and simpler so that mobile users won't miss your CTA or accidentally click the wrong link.
2. Take extra care when using images
Images are a great way to capture your recipient's attention, but only if they're done right. Too many images can not only overwhelm your mobile users but make your email difficult to load, so use images sparingly and effectively.
Additionally, not all mobile devices display images by default, and if a recipient is reading the email when they are on the go, they may not have the best network connection to download said images at all. Test what the text-only experience is like and ensure that it makes sense with or without the images.
3. Keep your subject lines short and sweet
The number of characters in a subject line that a mobile device will display varies, but as a general rule, your subject line should have around 25-30 to ensure it doesn't cut off midway. Short and snappy wins this round.
4. Don't forget the preheader text
Preheader text is often overlooked but can be equally as important as your subject line, especially when viewing the email on mobile. The preheader essentially gives the reader a preview of the email, so keep it relevant while showing them a fresh angle on your content. Alongside your subject line, an enticing preheader can cement your recipient's decision to open your email.
Like subject lines, preheaders will display differently on different devices so be concise and striking to convince them to keep reading. 
5. Prioritise readability
People are busy, and nobody wants to spend hours going through their emails. Small blocks of segmented text tend to be more appealing than one long chunk. Recipients are more likely to read the content of (and ultimately engage with) your email when they perceive it to be a convenient or 'quick read'.
6. Don't overcrowd your reader's screen
Less is more when it comes to designing an accessible and appealing email. Especially when viewed on small screens, simple and clean-looking layouts are often more enticing than busy ones. Don't be afraid of blank space; it frames your content (and your call to action), directing your reader's attention to what's important. Simply formatted emails with a clear direction can make your content easier to follow and engage with. 
7. Test on multiple devices
Before sending, see for yourself how your email looks on different devices. You may notice a detail to improve that you wouldn't otherwise have thought of, and you can be assured that your email displays the way you intended and achieves your objectives.
8. Use a responsive email template
On smaller screens, your carefully designed email can become, bluntly, squashed, resulting in your recipients having to pinch and fiddle about to read your email. This can be particularly irritating when you are in a hurry and may result in previously interested recipients abandoning trying to go through your email.
Responsive email templates do the work for you by displaying differently depending on the device, allowing you to present your content in the way you want,  while remaining appealing and easy to read no matter where they are viewing the email from. 
Smart Messenger provides our customers with a range of responsive templates ready to use for free with their campaigns. Alternatively, we can also make something especially for your business with our bespoke template design service for just £149. We want to make things easy for our customers so that they have the time to focus on making their content shine without the hassle.
Still have questions? 
Smart Messenger has been around since 2003 and our wealth of experience allows us to provide exceptional advice and support. We ensure that our knowledge stays current as digital marketing evolves and our friendly, UK-based team are always happy to talk through your goals so that we can help your business get the results you want. Just pick up the phone for advice on how to best utilise email marketing specifically for your business, be it big or small.  
Ready to kickstart your marketing or inspired to explore what else you could achieve?
Our expert team are ready to help you achieve your goals – and get great results. Ask a question, book a demo or get an expert perspective today.
Thank You!
We're sending your message.
Thank you!
Your message has been sent.
Sorry!
There's been a problem, please try again later.